Seattle, WA
10/29/96 Paramount Theater

Bruce Springsteen
Great show, these pictures were taken after the audience left, and Bruce came back out to say hi.



Aberdeen, Washington - June 1997

From the Muddy Banks of the Wishkah...




Oregon - June 1997
Somewhere on Highway 101
Take up your china doll...

Redondo Beach, CA - July 1997
I just had the sudden desire to sing Patti Smith's "Redondo Beach" as I passed this sign on my bike.

Redondo Beach, CA - July 1997
Total Access recording studios.


Hüsker Dü recorded Everything Falls Apart, Metal Circus, the Eight Miles High single, and Zen Arcade here. Zen Arcade was recorded in October 1983, in about a week.

This photo was taken on my Canada to Mexico bike trip during June-July 1997 (my bike is at the right). Yes, it is a boring looking building; you were probably expecting something grand. Other businesses in this 16 unit complex include an auto body shop, accounting office, and some sort of woodworking shop, etc. (but these are not as cool as the studio)

July 1997
Lou's music, somewhere north of San Diego.

Please Drive Like Jehu


June 1998
X at La Luna- June 6, 1998

What a show! X (with Billy Zoom!) played and played. Billy was throwing out guitar picks and I managed to catch one. Billy Zoom and John Doe signed my ticket while I was babbling some nonsense question.


December 1999
Exit 108 on I-5 in Washington

I'm sure other people have stolen signs but this one might be a bit hard to jack. This is in Washington near Olympia.

East Coast Folks take note!!! - This is not in Washington D.C.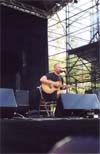 Bob Mould - 6/23/00 Seattle, WA

Bob playing at the opening of the EMP in Seattle. This was the first time I've seen Bob: outdoors, in shorts, and play Brasilla.



Richard Buckner - setlist from 12/01/00 St. Johns Pub Portland, OR

Richard Buckner...amazing as always.